Due to regulatory changes from the CDSBC, the provincial body that regulates dentists and dental practitioners in BC, we are no longer allowed to publicize discounted services to our patients. However, through our network of 123 Dentist community dentists we often have contests which we will post here. When we do have offers, contests, or other permissible promotions, we will post them here.
Referral Rewards Winners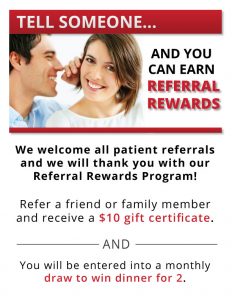 Canada Way Dental is proud to offer a $10 gift certificate to Starbucks for every new patient that is referred to us.
You will also be entered into our monthly draw as a thank you for being a part of our clinic, and for referring your friends to us!
We appreciate you. Enjoy!
Book Your Checkup Today!